Written and published by Flight Centre Australia, April 1 2015.
London from $199* return? Frugal fares now on offer
Flight Centre is set to offer a world-first new cabin class for the frugal.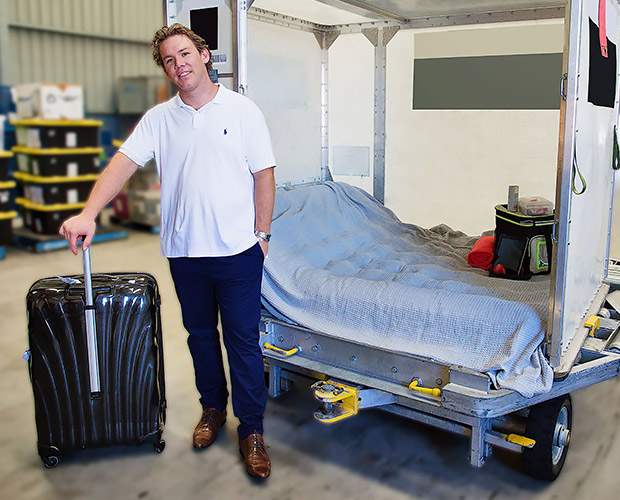 Rising costs of living, fuel surcharges and ancillary costs all add up for would-be travellers.
The brand new Cargo Class, housed within the aircraft's cargo container, offers passengers a full lay flat bed in a personal suite 'pod', for a fraction of the price.
Private and locked away from the usual hustle and bustle of the typical flight experience, travellers can take advantage of wireless in-flight entertainment options using their own personal device and bring their own meals and snacks for the journey, so long as they are contained in an air-tight container.
With the benefit of the latest aircraft technology these pressurised and temperature controlled cargo spaces offer up a unique and private way to travel for those looking for something a little different at a bargain price.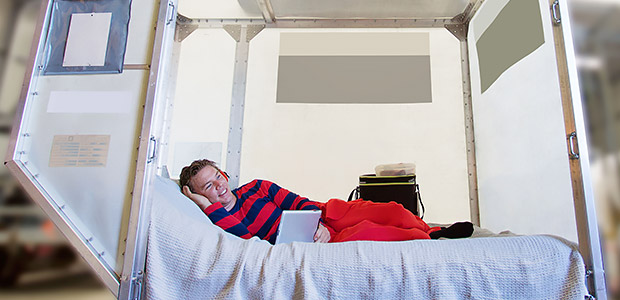 "The initial trial has been very positive and most airlines we have spoken to are more than willing to carry Cargo Class as it signals a new revenue stream and unique customer experience," said Darren Wright, Flight Centre's general manager of marketing.
Passengers check-in as usual at the Airline Gate and then board via the tarmac on baggage belt loaders into the aircraft's cargo hold. Seating selection works on a first come, first served basis with a single cargo container able to comfortably seat up to four people.
"We expect Cargo Class will also dramatically reduce the time it takes to disembark, meaning you can get started on your holiday sooner.
"As the cargo container is delivered directly to the customs and screening area, travellers can disembark with their luggage and head straight through to immigration," Mr Wright said.
Getting There
Cargo Class fares start from as low as $199* return on the popular London and Los Angeles routes. Cargo Class fares can be booked from today through Flight Centre for travel from July 1, 2015.
*Price subject to change and availability.