When the state itself is shaped like an apple, it's easy to accept Tasmania's handle as the "fruit bowl of Australia". Many mainlanders are cottoning on to the gourmet paradise that lies just beyond the Bass Strait, overflowing with cool-climate wineries, sweet southern orchards and glassy black waters hosting fresh seafood worth salivating over.
From the dairy milk draught that hovers over Claremont, just north of Hobart, to the golden effervesence bubbling from the James Boag brewery in Launceston, Tasmania is awash with tonnes of tasty attractions. The postcard-perfect Van Diemen's Land can appear too good to be true, with its rolling lavender fields, entrenched colonial heritage and agricultural prowess. Luckily, though, this dreamscape is for real, so let this guide to take you on a Tasmania food holiday to te southernmost reaches of Australia.
For the fromage fiend: King Island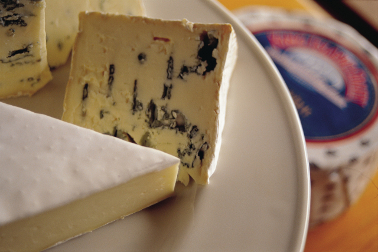 King Island Dairy. Image courtesy of Tourism Tasmania and Nick Osborne
If King Island soungs familiar but you're not quite sure why, a quick gander at the dairy section of your local supermarket will jog your memory. The island may be small (just over 1000 kilometres squared) but dairy and beef are big business. Lingering just northwest of Tassie, King Island is one of the most lauded cheese producing regions in the entire country, its famous Fromagerie wielding French-style camembert,, soft triple cream brie, deeply flavoursome blue vein and more. Every March, King Island celebrates the Long Table Food Festival: an extended lazy Sunday lunch where friends old and new gather to "pick it, cook it and eat it".
For the market meanderer: Salamanca, Hobart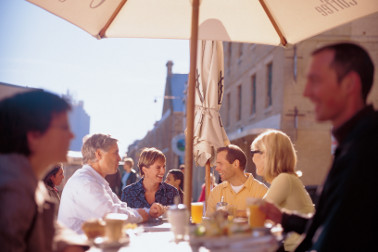 Salamanca Market. Image courtesy of Tourism Tasmania and Gary Moore.
Hobart's Salamanca Place is more of an institution than a landmark. The original site of the Hobartian foodie scene, Salamanca's historic sandstone square becomes a labyrinth of pop-up stalls of a Saturday morning, where the cinnamon-sweet fragrance of mulled wine matches the aroma of crepes being smothered in molten chocolate. Surrounded by cafes-cum-bars against Mt Wellington's protective gaze, Salamanca belongs to the Battey Point district where you can feast your eyes on convict-era architecture, your eats on bluesy buskers and your tastebuds on the perfect Tasmanian afternoon tea: hot baked bread, homemade preserves and a veritable orchard of sweet, supple stone fruit.
For the lover of local fare: Bruny Island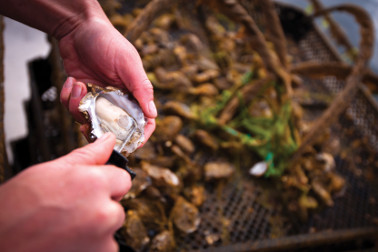 Get Shucked - Bruny Island Oysters. Image courtesy of Tourism Tasmania & Rob Burnett.
There is something special about food grown or prepared by hand: tomatoes straight from your garden always taste sweeter; your grandmother's lemon butter trumps the store-bought variety; your catch of the day is rewarding as well as delicious. A 20-minute ferry ride from Kettering, south of Hobart, is all it takes to get to Bruny Island where homely bed and breakfasts are sheltered from the windswept coastline. Travelling the unsealed roads along the Made on Bruny Island gourmet trail will immediately instil that sense of country charm as you farm-hop from cheese makers to smallgoods smokers and berry growers to oyster shuckers, returning to the mainland full from the fruits of the locals' labour.
For the artistic appetite: MONA, Hobart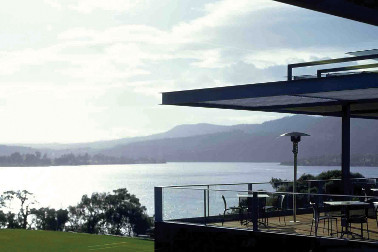 Moorilla Wine & Food Centre. Image courtesy of Tourism Tasmania and Brett Boardman.
MONA (the Museum of Old and New Art) is a gallery for the epicurean as well as the art critic. A half-hour ferry trip up to the River Derwent from Hobart will have you gorging yourself at this gourmand galleria where the scent of street-style Mexican fare wafts from the grassy knolls of a summer day thanks to the MONA Market (MOMA). On the doorstep of the museum is the Moorilla vineyard and the cellar door, which produces boutique reds and whites with organic/sustainable foundations. After you've pondered over the exhibitions, contemplate some more with a tasting tour in the barrel room or, if wine is not your cup of cabernet, get a little crafty with an ale or pilsner at the Moo Brew brewery.
For the cellar door devotee: Tamar Valley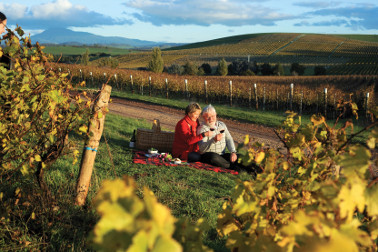 Jansz Tasmania. Image courtesy of Tourism Tasmania and Tamar Valley Wine Route.
Winding its way from Launceston to the open sea is the Tamar River, lending its name to the surrounding Tamar Valley. Sharing confines with Launceston, the Tamar Valley is the star of the state's north and a pinnacle of Tasmania food travel, where distinct yellow and blue signs lure visitors along the Tamar Valley Wine Route, comprising of more than 30 vineyards scattered along a 170 kilometre stretch. Perfectly laid out for a leisurely road trip, a picnic and plonk with a river view is really the only way to truly savour the Tamar. As Tasmania's oldest wine region, the Tamar Valley continues to grow, ferment and bottle a brilliant range of Chardonnay, Riesling, Sauvignon Blanc and Pinots. Chin-chin! 
Other Travel Articles You Might Like...