Did you know Tasmania has a staggering 19 national parks? If you're not there for the wine, the food or the culture, then it's likely you've set your sights on the island's natural splendour. Move over Freycinet and Cradle Mountain, here's our guide to six of Tassie's lesser known, but equally impressive national parks.
Tasman National Park
From the trails, sea or highway, Tasman National Park looks good from any angle.
On Tasmania's eastern coast, just 90 minutes' drive from Hobart, is an incredible landscape of soaring sea cliffs and mammoth rock features. Tasman National Park protects a vast natural sprawl across Cape Surville, Waterfall and Fortescue Bays, Cape Hauy, Cape Pillar (the Southern Hemisphere's highest vertical sea cliff) and Cape Raoul. Not to mention Fossil Island, Hippolyte Rocks and Tasman Island.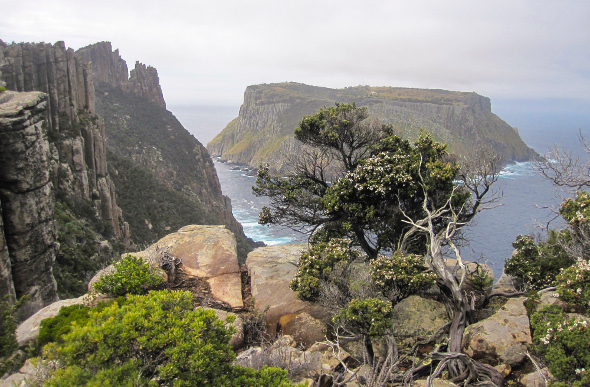 Views of The Blade, Tasman Passage and Tasman Island from the Cape Pillar Track (credit: Tourism Tasmania and Sarajayne Lada)
Things to do:
Take to the high seas for close-up views of the sea cliffs, while spotting seals, sea birds and even migrating whales on an 

unforgettable wildlife cruise

 with Pennicott Wilderness Journeys.
Hit one of the many 

easy walking tracks

 and teeter over the edge of the cliffs to view deep chasms and intense aquamarine sea.
No need to venture too far from the car. There's a bounty of 

natural formations along the coastline

 including the ever popular Tasman Arch and The Blowhole.

Hang gliders

 can launch off at Pirates Bay.
Franklin-Gordon Wild Rivers National Park
Wild by name, wild by nature, Franklin-Gordon Wild Rivers National Park was shaped by ancient glaciers.
This National Park nestles in the heart of the Tasmanian Wilderness World Heritage Area off the western coast. You may be farmiliar with a certain environmental campaign back in the 1980s to stop the controversial Franklin Dam project. The movement won, and today we continue to enjoy the natural spoils of spectacular gorges, ragged mountain peaks and some incredible waterways.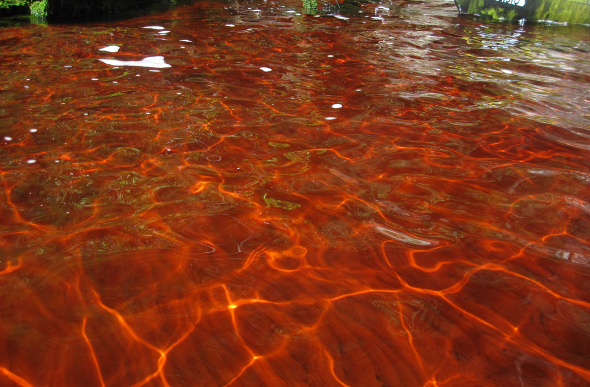 Marvel at the natural tannin-stained waters of Franklin River (credit: Tourism Tasmania and Sarajayne Lada)
Things to do:
Lyell Highway

 cuts through the national park, with plenty of picnicking spots and walking trails to stop at along the way. 

King William Saddle

 awards jaw-dropping views of Mt Rufus, Frenchmans Gap and the dramatic change in geology from Tassie's west to east landscapes.
See a thundering waterfall along the 

Nelson Falls Nature Trail.

Embark on a cruise from Strahan through the dense forest banks of the Gordon River or visit 

Sarah Island

, the former convict settlement.
The crimson-hued 

tannin-stained water

 of the Franklin River is a sight to behold.
Maria Island National Park
Easily accessible by ferry, pint-sized and pristine Maria Island is entrenched in unique heritage and offers a bevy of activities off the eastern coast. Whether you're a history buff, adventure seeker, wildlife warrior or beach babe, the wonders of Maria Island deliver the goods. Leave the car keys and spending money at home; you won't find any vehicles or stores here. Just Mother Nature at her absolute best.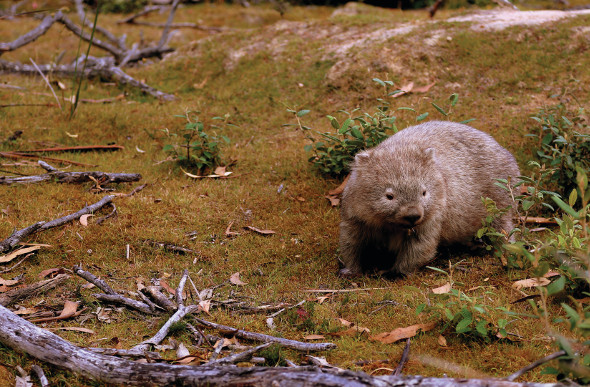 Say hey to these little guys on Maria Island (credit: Tourism Tasmania and Kathryn Leahy)
Things to do:
Spot 11 of the state's 12 widespread bird species and 

Cape Barren goose

.
A bounty of wildlife can be seen around the island including 

pademelons

 and 

wombats

.
Enjoy stretches of 

white sand beaches

 to yourself.
Maria Island's crystal clear water is home to incredibly diverse marine life making it a prime 

scuba diving

 and 

snorkelling 

spot.
Cycle through the ruins of Darlington

. 

Once a convict station, today a 

ghost town

.
Wander 

The Reservoir Circuit

 through woodlands and a eucalypt forest.
Set off on a three- or five-hour walk along the coastline, through grasslands and past towering cliffs to reach the summits of 

Bishop

and 

Clerk

, the island's tallest peaks.
Maria Island National Park
Narawntapu National Park isn't regarded as the 'Serengeti' of Tasmania for nothing. It's said this northern national park is the best place in the state to spot wildlife thanks to a comprehensive landscape of inlets, wetlands, dunes, lagoons and vast plains that stretch from the low coastal ranges to Bass Straight beaches.
Here's a fun fact: the park was formerly known as Asbestos Range National Park due to the small quantities of asbestos and other minerals farmed beyond the range, but never actually in the range itself, despite its original name.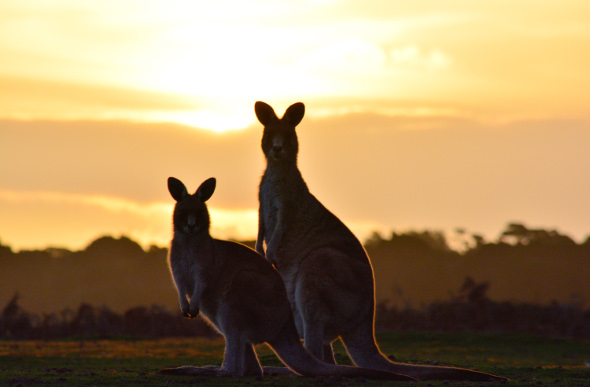 Roos at sunset at Narawntapu National Park (credit: Tourism Tasmania and Pauly Vella) 
Things to do:
Wildlife spotting

! Animals make appearances in the evening so get out those binoculars to catch a glimpse of Forester kangaroos, Bennetts wallabies, wombats and even elusive 

Tasmanian Devils

 grazing on the grasslands.
Birdwatchers rejoice! A number of species reside in the park including honeyeaters and black cockatoos. Narawntapu is also the feeding ground of the 

endangered wedge-tailed eagle

.
Unearth Narawntapu's rich 

Aboriginal heritage

.
Set up 

camp

 at Springlawn, the horse yards, Bakers Point or Koybaa.

Swim

 or go 

fishing

 at Bakers Beach and Badger Beach.

Discovery Rangers

 hold a variety of outdoor activities for both kids and adults during the summer holidays.
Ben Lomond National Park
Ben Lomond National Park is where Taswegians come to get their snow fix in the Southern Hemisphere Winter. Up at the summit is a fully fledged alpine village with ski lifts, a ski school, retail outlet and cafe.
Often the journey is just as memorable as your destination, and the leisurely 70-minute drive to Ben Lomond from Launceston culminates in spectacular fashion with a zigzah road to the top known as Jacob's Ladder.
Pack your skis, snowboards or toboggans; in Ben Lomond, the powder's fresh.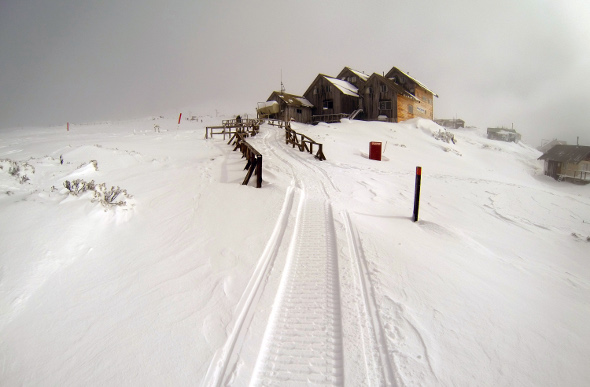 Powdery tracks at Ben Lomond (credit: Tourism Tasmania and Thomas Carpenter)
Things to do:
Ski, 

snowboard

 or toboggan.
Strap on some 

snow shoes

 and enjoy a leisurely walk in the snow at your own pace.
There are several two-hour walks for 

hikers

 including Carr Villa to Alpine Village and Alpine Vilalge to Little Hell.
Mt Field National Park
Mt Field holds the title of Tasmania's first national park, and it's a diverse one at that. Think incredible vistas, lush vegetation, wildlife and even skiing facilities. Mt Field National Park is an easy 60-minute commute from Hobart.
Another fun fact: Russell Falls, Mt Field's incredible tiered-cascade waterfall was featured on Australia's first stamp.
The famous Russell Falls at Mt Field National Park (credit: Tourism Tasmania and Catherine Forge) 
Things to do:
Lace up those walking shoes and enjoy the short stroll (wheelchair accessible) to Mt Field's famous 

Russel Falls

.

Caving

 – most are suited only to experienced cavers but 

Junee Cave

 is accessible to the public.

Downhill ski

 operations exist at Mt Mawson, 89 kilometres west of Hobart, serviced by three lifts.

Cross-country skiing

 operates on the higher plateau.
Discover Lady Barron Falls and 

Horseshoe Falls

 on the way to the summit of Mt Field.
There's no shortage of 

walking trails

, both short and longer hikes, taking in an abundance of native flora, views and glacial streams.
Other Travel Articles You Might Like...