These three destinations offer tropical getaways where your worries can dissolve as you relax on sandy beaches or alongside five star pools. The scenery is stunning, the weather is warm and there is a whole host of entertainment options to keep everyone smiling. What better way to spend the
Easter holidays
!
Where: Bali is an island of Indonesia.
What: Bali is paradise on earth, famous for gorgeous beaches, Hindu temples and affordable five star resorts where you can live like a king. The island has many postcard perfect spots, from its volcanic mountains to its beautiful tiered rice paddies, and its colourful coral reefs. Bali is also well known for its inexpensive shopping, wether you're after island fashion and jewellery, local arts and crafts, or fun trinkets and souvenirs from the beachside Kuta Art Market. If you like to get out and about, Bali is the destination for snorkelling, diving, surfing and hiking.
Why Bali for Easter: March is the changing season between Indonesia's wet and dry season, but Bali's relatively constant temperatures mean you're sure to have warm weather, perfect for swimming in the ocean or in your hotel's pristine pool. The only downside is that your chocolate Easter eggs might melt! While Bali is predominantly Hindu, the locals are very accepting of other cultures and religions. Some hotels offer Easter activities, great for children, such as egg hunts, egg painting and more. However the real appeal of Bali is to simply have a tropical island getaway that is affordable and caters to all the family.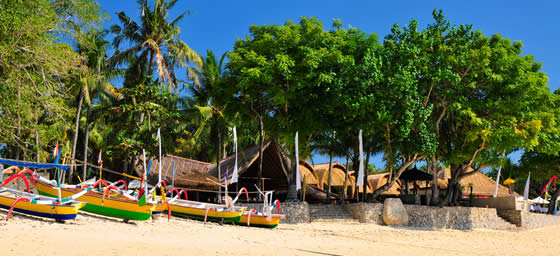 Balinese Beach
Where: Krabi is the capital of the Krabi Province in Thailand.
What: This bustling city is well known for its beautiful scenery, from sheer limestone cliffs to lush jungles, huge waterfalls and bright blue waters that are just asking to be explored with a kayak, or by snorkelling and diving. Krabi is perhaps most famous for the Tiger Cave Temple, a Buddhist temple high in the mountains with tiger paw prints on the stone walls. Being a coastal province, you can get your hands on fresh seafood, often in the form of mouth-watering coconut-based Thai curries.
Why Krabi for Easter: The average temperature in Krabi in March is around 30 degrees Celsius so it's another great tropical getaway where you can spend time at the beach, by the pool or island hopping for some adventure. You should be able to catch the Laanta Lanta Festival in March too, which is a big celebration of the cultures in Koh Lanta, a district in Krabi province. Here you can experience traditional food, drinks, music, entertainment and cultural displays from the main ethnic groups on the island – Chinese, Muslim and Sea Gypsy!
Traditional Thai Long-tail Boat
Where: The Gold Coast is a region on the east coast of Australia in the sunny state of Queensland. 
What: The Gold Coast is the place for a family getaway, with its long sandy beaches that are perfect for surfing, swimming or just making a sand castle! Experience the relaxed Australian way of life with the Gold Coast's many cafes and restaurants, have great coffee, seafood and fish and chips on the beach. Kids adore the many theme parks on the Gold Coast – Dreamworld, Wet 'n' Wild, Warner Brothers Movie World and Sea World. The whole family is also sure to enjoy Currumbin Wildlife Sanctuary, where you can cuddle a koala or feed a kangaroo.
Why the Gold Coast for Easter: Christianity is the predominant religion in Australia  and the country enjoys a four day holiday for Easter. Many families celebrate Easter with egg hunts, egg painting and delicious hot cross buns for breakfast. You'll be sure to see chocolate Easter eggs, bunnies and even bilbies (a native Australian animal) everywhere. During the Easter holiday period, the Gold Coast will host the Australian Street Entertainment Championships where you can watch all sorts of performers from comedians to singers, musicians, BMX stunts and more – all for free!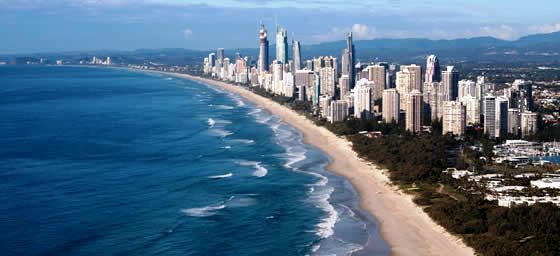 Golden Coastline